I recently hired Paul Keating a painting contractor in Lincoln Nebraska and had an experience that will serve as a valuable real estate investing lesson for the rest of my adult life.
Actually, it was a lesson I learned early on in my 20's but it took me some 20 years later before I was reminded about how important it is to ALWAYS use some BASIC FRAMEWORKS for working with CONTRACTORS when you are NOT LIVING NEAR A JOB SITE while the work is being done.
Only now have I reinstituted some business policies that will prevent this experience from happening to me again.
Fittingly, I call this my 'Paul Keating Rule' and I realize looking back that it was a learning experience that can provide others valuable insights as well on what not to do. Sometimes we get to choose what are most valuable experiences are and this was one of them for me.
I also believe that as craigslist construction fraud becomes more and more commonplace, it's increasingly important that people share their stories when it happens to them.
In summary: this experience also helped me devise some new policies for my house buying business. These are great tips to share with other remote real estate investors. Below we bob in and out of our own real-life example as we share advice on how to not fall into the same pitfall we did with hiring Craiglist contractors remotely.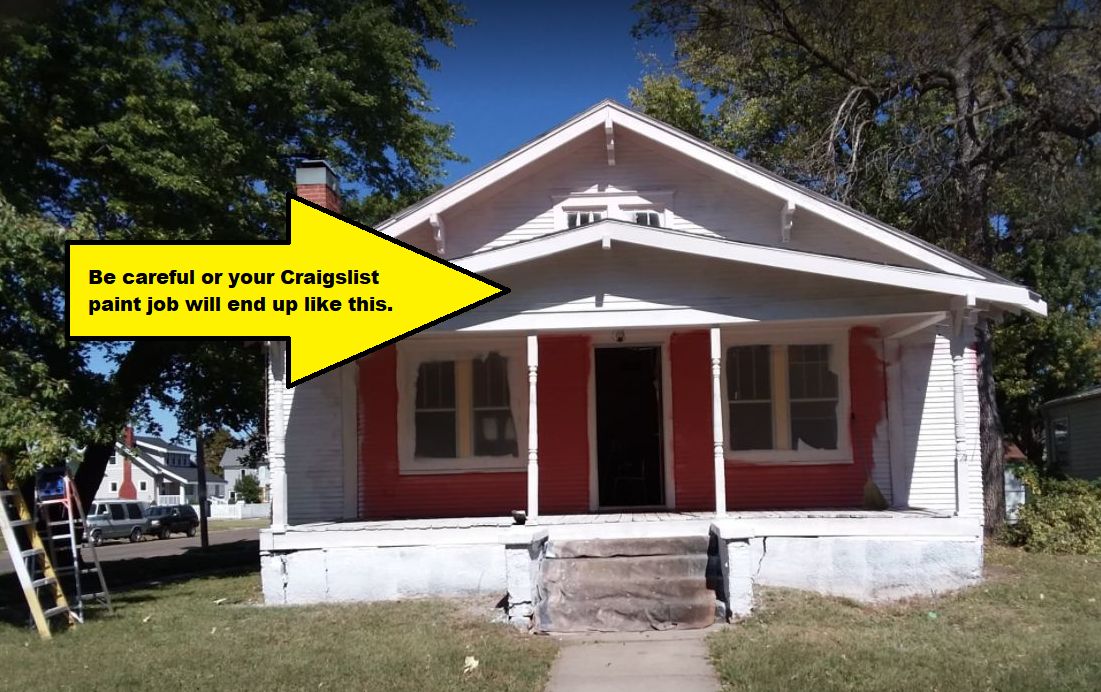 Tips for Remote Real Estate Investors: Hiring Contractors from Craigslist
Again, I call this list of principles and steps for hiring contractors on Craiglist my, 'Paul Keating Rule'. It is not just one rule but a series of steps I take to avoid Craiglist construction fraud
Let me first give you the history. My story starts and ends like so many others.
The background: I bought a fixer for around 20k a few hours outside of Lincoln Nebraska. The home had some charm and a large floor plan with 4 bedrooms but needed everything. Out of respect for the local community and neighbors, the exterior; typically with paint and landscaping are where I start projects.
After striking out on Angie's List, I headed straight for Craigslist.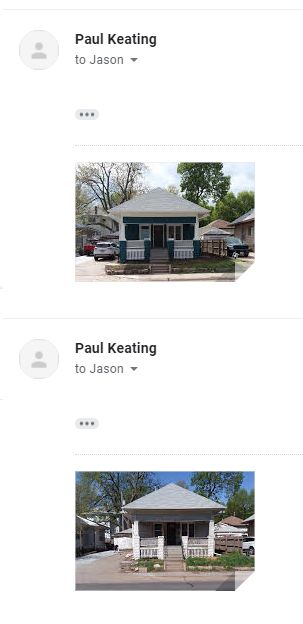 I placed the ad responsibly under the 'Skilled Trades' section and not under general labor and paid for the premium placement. The replies started to roll in. All was well.
Mind you, having been an investor for 20 plus years, I did the routine vetting and had a short call with each of the individuals that took the time to reply.
I weeded out those who emailed us their names which did not match the names on the email addresses received.
I also sifted through the leads looking for any other red flags or I thought. (Things like lack of experience or no experience)
I whittled my list down to 3 actual painting contractors who lived within 200 miles of the job site.
Typically I stick to 30 minutes drive, but this project was quite rural.
All was well…or was it? What did I skip?
Keep reading and you will see the most obvious step that I skipped. 
As I mentioned above, I ended up contracting with Lincoln Nebraska painter Paul Keating. He claimed to have 25 years of experience and was ready to, "Punch out the job immediately." to quote him.
We quicked reached an agreement in writing to do the exterior paint for $2,500 labor and the interior for $1,500 for labor, we would pay for the paint, and we would also pay $200-$600 lab and materials for any ext wood repairs on the siding.
Paul had no payment systems like Squareup, Joist, or QuickBooks and we wanted to get the project started so we reluctantly agreed to use PayPal to pay him.
At the last minute, Paul Keating also told us that he wouldn't be able to cover the costs of labor or paint from his business cash on hand even for a few days while the payment processed through Paypal to his account and that we would need to send the funds friends and family.
Paul seemed like such a nice guy and his prices were fair and we said ok.
After all, I thought that since the payment schedule was set up in a way that we would have pictures, we should have been protected. Normally yes, that is the case, but not if you throw good money after bad and don't stick to the outline of the agreement.
More on that later…
Being in a huge hurry to get the work completed we took, 'the risk'.
Here is how it went down.
Paul's paint job proposal came to us from keatingpaul51@gmail.com on Sept 21st, 2020.
Exterior.  Powerwash,prep,prime and paint. $2500.00   i.e same colors.               Soffit,facia repair $200.00-$600.00          Interior painting.  Cielings and walls.       1 color $1500 (white) excluding any extesive ceiling or wall damage. I.e. ceiling we discussed.                                      Any extra problems will discuss.                                                                                            Payment schedule as we discussed.         Exterior, $750 down payment on labor.  After the house is powerwashed,prep and primer are applied .payment of $1000 …….

Also payment on soffit and fascia upon completion. I.e. that will be done before primer. Then $1000 when the body and foundation are complete. The balance of  $750.00 upon completion. 

 

Interior payment. 

$500 when ceilings are completed, and $1000 when interior is completed.                                                                                        Personal info:                                                Paul keating. 5855 wolff.ln  lincoln,ne.     Cell# 4025606312.                                         Start date would be 9/23                             I have to be honest .im really not good with phones or computers so if there is anything else you need just call. Thanks and i look forward to possibly doing more projects after this one.                          Sorry to be so strengent on payment, i just want to look out for both of our best interest. And establish trust.   – Paul Keating
We also went through the step of a video call to discuss the job face to face. Since we are not local we also do that. Paul seemed forthright in giving us his Facebook page and so we had some local links to him as well by doing this. Overall, he seemed like a very nice gentleman, assured us he had the skills and was motivated to work.
So I pulled the trigger after our second call and sent off the down payment for the labor and the cash for the paint as well. It was $1750.00 to be exact.
This was the last day of honest communication from our painter.
It would be about 10 days and $4,200 dollars later before we knew just how deep we had gotten into a fraud. 
The next two days were met with excuses of why there was a late start pressure washing and scraping the home. Once work started it was excruciatingly slow. Then it began. First the broken tools, issues with his help, and then the renegotiating of course.
Let me segway for a moment…
At first, in these situations, this tends to starts with cliches like, "The job is much bigger than I expected but I will honor my word". Then it moves to subtle mentions of more money, eventually, those mentions turn into justifications for shortcuts and requests to do half-ass work.
In other cases, they turn into not just doing poor work but even hiding incomplete work. That is the usual case of how you determine when you have a shady contractor and then you can make a change.
This situation was different and the curveball he threw kept us on the hook.
Paul you see was apparently the confidence scammer, one who has mastered the art of making it look like the work is getting done when it is not.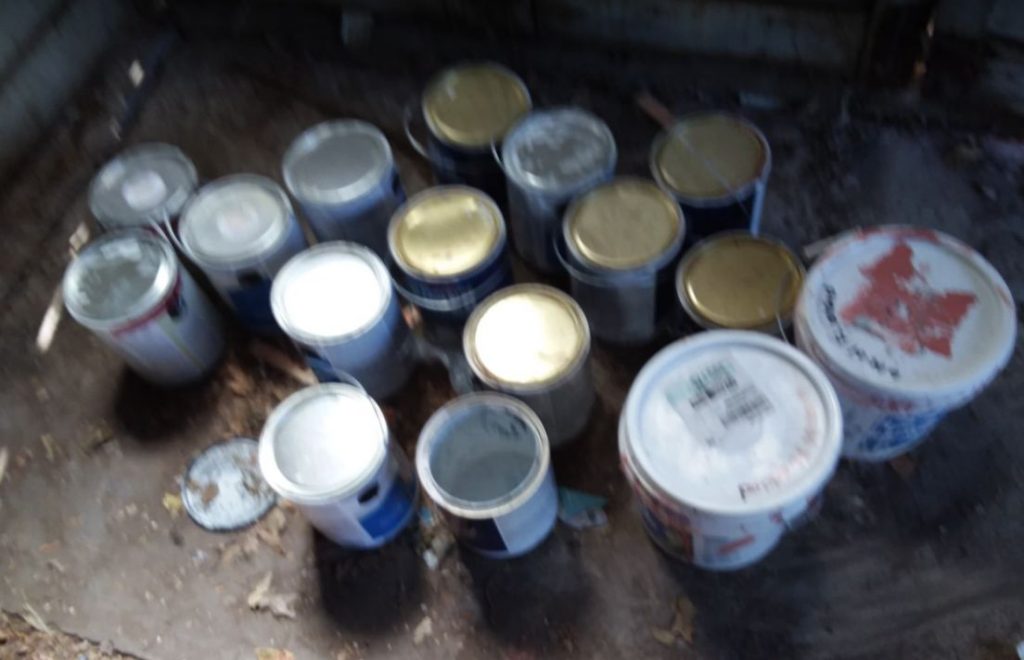 Our painting contractor Paul Keating was careful in how he stated things always taking time to reassure us how hard he was working and how nice the paint job was going to be after he was done. Looking back it is clear he was keeping our eyes on the "completion" rather than the reality of where the work was at in the process.
Let me also just take a minute to say that those of us that have been working in the trades directly or as real estate investors know and value the true construction professionals. However, we are also very aware of the opposite side of the coin.
Be Alert For Signs of Fraud: Insist on
DOCUMENTED DONE

Pictures

Thus, as a remote real estate investor one need to know the modus operandi of contractors who are out to misrepresent the status of a construction project. After all, the number of stories like ours is shocking to discover. When you do some research on how often construction fraud actually happens, it is quite common.

Unfortunately, ours is an experience that homeowners, as well as even many seasoned real estate investors, have had.

Sadly few choose to share these experiences because it's embarrassing to admit our own roles in making mistakes or cutting corners in the process that lead to such an outcome. Ultimately we are individually responsible for taking steps to protect ourselves. While being the victim of fraud makes you question everything around you and feel very vulnerable, I hope these tips will help you focus on taking steps to avoid a similar experience to my own.

The truth is that no matter how many years of experience one has worked with contractors, even the best of us fail to do the most basic research from time to time. Sometimes we want to avoid confrontation and fail to stick to our guns or follow simple enough procedures.

Realize though, as a remote real estate investor that you must be firm in your policies. Realize also that a contractor being overly polite but failing to provide clear photos of a Jobsite when claiming the work is done is himself being confrontational already if he's demanding payment for something that is not DOCUMENTED AS DONE.

Remember that phrase and it will save you thousands investing in real estate: before starting a job be clear if you are remote that you need photos that will show work DOCUMENTED AS DONE. Otherwise, virtually anyone can get taken to the cleaners by an unscrupulous contractor.

And now for the bombshell failure on our part. We failed to even search the contractor's name online before we hired him. Had we done so we would have found multiple felony charges including a recent one from 4 months prior to us hiring him. Only after $4,200 was paid out and he had already abandoned our project did we find out that minimal body paint and not even all the primer was applied to the home. Not to mention that all the paint he had claimed to have purchased was in fact not purchased or not left at the property.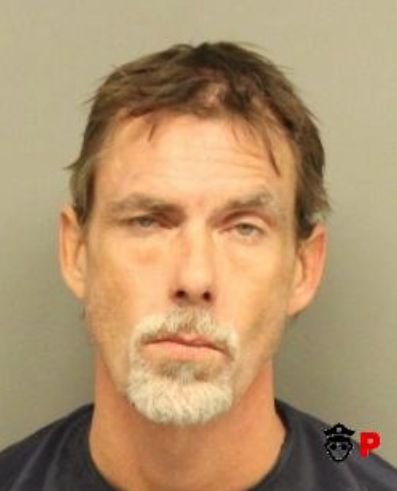 The reason I am writing and sharing my experience is to illustrate an analogy I draw off in what I now call the 'Paul Keating Rule'.
Below I shared more of the facts of what I experienced as well as actual email communications we had with this dishonest painter.
As our house buying business blog is not a name and shame tabloid rag, I should also say clearly that we have already forgiven Paul Keating in Lincoln Nebraska. We classified the loss as an educational expense and it is water under the bridge.
However, I chose to pass the facts along to share the educational experience involving craigslist construction fraud.
This will be how I account for the thousands of dollars in lost money that walked off our job site as it is in fact a huge learning experience for not just myself but others. If Mr. Keating ever settles up I will also be happy to update this post. If it's a refund we'll donate the money to charity and share a receipt here. If he does the work that is owed we'll update the status as well. That though is not the point of our post, but rather to share with others how you will have your own Paul Keating along your real estate investing journey and when you do it is important to be ready for these challenges.
The goal with this article is to remind everyone, seasoned investors, to novice beginners; Craiglist contractor scams are on the rise and you have to use some common sense when you decide to venture down this path.
This is common sense that I failed to follow when I hired out this painting job in September of 2020.
The first thing you want to do is to SEARCH THE NAME OF THE CONTRACTOR YOU HIRE!
(Yes, just recently.) My hope is that others reading my first-hand experience are reminded of the importance of due diligence and not just on the house investment they make but also on the rest of the investment they make. After all the investment in repairs is oftentimes more than the investment in the property itself. Therefore how you go about getting honest help with renovations is a vastly important process.
First of all, let me just say that the internet is a marvelous research tool, only if we were to have used this employ this tool to do some preliminary research before we decided on hiring this contractor, then surely we would have read the articles like this and this about the very checked past.
Endless articles have been written on this topic but mine pertains to those of us who are remote real estate investors using contractors from afar. Okay, let's get in it.
What is the, 'Paul Keating Rule'?
First, it is the 7 reminders about situational awareness that you are NOT LOCAL and ALL YOU REALLY KNOW is that which you can see from pictures.
Next, it is a protocol for pictures and the single most important first step of searching the contractor's name to see what history may come up.
Tips for Dealing with Craiglist Contractors When it Comes to Remote Real Estate Investing
SEARCH THE NAME OF THE CONTRACTOR AND THE CITY THEY LIVE IN ALONG WITH THE PROFESSIONAL SERVICE THEY OFFER.
Always INSIST AT THE VERY FIRST STAGES on a process of clear progress pictures before payment releases. Pay on completion, not in advance on any work.
Trust your Intuition: if something feels off have someone else local available to go look at the job site. No set of pictures can cover a whole surface of a house
Never use PayPal Friends and Family. There is no recourse and the money is gone if you use payment systems that have no purchase protection program. The same is true with Google pay and Zelle. Use PayPal with purchase protection if necessary

but ask that the contractor set up a PayPal business account which is the correct process

.
NEVER let your excitement to start the work get in front of the responsible steps to ensure you do not get taken advantage of.
Realize some people on craigslist are professionals at gaining trust. They are pros at the confidence trick. You are not going to be able to get to know them enough over calls or emails that it merits not following a good process.
Contractors will understand and respect you as a professional if explain the importance of pictures to document work. Also, share how much you value their skills and want to take the time to develop a long term business relationship. You can even link them to our own, 'Paul Keating Rule' post.
Understand that there is a phenomenon in which people who know you are not local are more apt to believe the distance is somehow an excuse for them to try to get away with not doing work up to even the most basic professional standards. Knowing that this can happen is half the battle.
Be aware of these things and always look to build long-term lasting relationships with professional contractors local to the areas that you are investing in.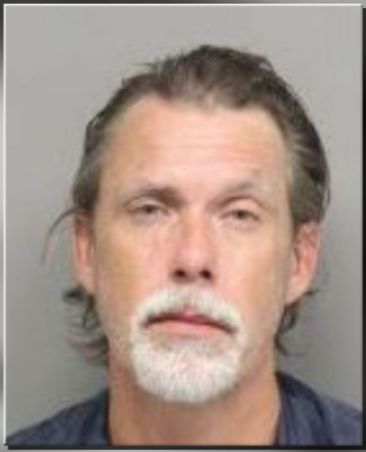 Over my lifetime I have invested in too many houses to count and rehabbed many millions of dollars worth of distressed homes. Yet, in this case, I took the bait; hook, line, and sinker when it came to this dishonest contractor's confidence trick.
By sending us partially visible pictures that were cropped and blurry while reassuring us that the images showed the job complete we didn't force the issue of adequate clear pictures.
Meanwhile, by keeping the asks small on advances he was able to extract $110 shy of the full payment for the job before leaving the job without even so much as the priming completed of the exterior of the property. He even did the same with the receipts knowing I would seem overbearing if I asked for the pictures to be retaken since they were blurry. In hindsight, we now realize that this was a pure gamble by the contractor.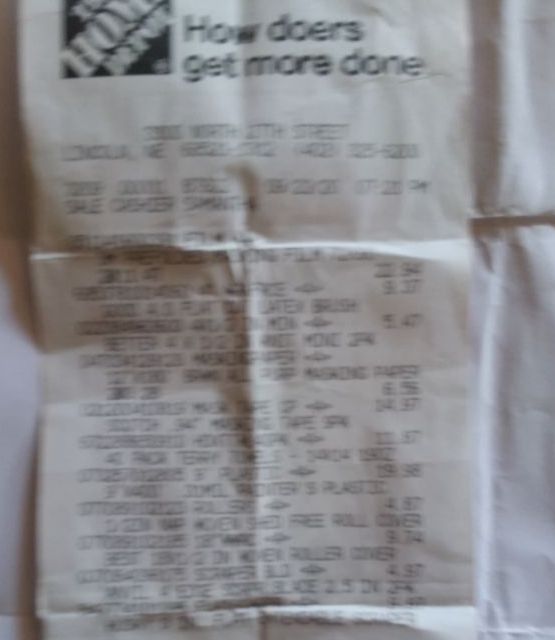 Con men know good people have compassion and we understand that sometimes too, contractors lack working capital. This is where we were especially vulnerable to the steps that were employed to trick us into believing our job was being done.
However, this is also where I can only blame myself for allowing my own compassion to cloud my better judgment.
Above I referred to 'the risk'.
There are good risks and bad risks. Bad risks are that involve no recourse or a recourse path that is too expensive to follow up on and ensures a financial loss.
Remote real estate investing means that filing small claims on a contractor who is not local to you is oftentimes a losing proposition. Shady contractors are also very much aware of that. So much so that they have been known to walk off job sites with down payments to not even return only to fabricate stories to cloud outright theft and fraud as a private dispute.
This is the sad truth
What oftentimes happens once the contractor has been paid in advance is a pattern of staying in advance and then even gamesmanship to see how far ahead he can get paid. I refer to this as the "The Big Renegotiation".
It is actually more common than one might think.
Always striving to place the burden back on you is commonplace to see with craigslist fraudsters and they seek to subtly ask for more and more, but just enough to make it seem as though they are wanting to only protect their interests.
Other real estate investors who have had similar experiences can attest to the fact that oftentimes these guys will come up with a variety of excuses for poor angles of pictures, badly cropped pictures, blurry pictures, or even no pictures at all.
Contractor Excuses for Lack of Image Proof / Documentation of Work or Materials Often consist of The Following: 
The, "I am not a photographer' close. This statement pushes it back on you that they can't take a clear picture. That is not acceptable. They knew the job going in and no special skill is necessary to take a clear picture. Think about it.
My camera is a bad excuse. (It is 2023 so push back instantly on this and be right upfront). It is entirely reasonable to ask your contractor to repair the camera or borrow a friend's phone.
Every contractor and nearly every person should have a camera on their phone. Realize that nearly any modern phone will produce a clear picture. Having a camera should also be part of the interview process before you hire a construction job if you are a remote investor who is not local to the job.
Bad angles or cropped: Remind yourself that it actually takes effort to crop out the areas that are most important. When you get a picture that crops out the most important subject matter chances are that is done with the intent to deceive.
These are ALL red flags. Always stick to your guns and follow my 11 Points of the 'Paul Keating Rule'. I will summarize this rule below as far as the most important takeaways.
A. Never pay more than 5% of the labor for the job ahead of time. PAID ON COMPLETION is the #1 principle of the 'Paul Keating Rule'
B. The contractor is in business and one of the main tools for any construction business is some level of operating cash. (arrange for will call pickup of construction materials where possible) and never allow new relationships to have access to the cash for materials, rather buy them online at Lowes then set up will call. Collect a copy of his or her driver's license always.
C. Insist on 1 photo of all materials taken at the Jobsite with a clear picture of the receipt for the goods and get pictures showing documented done before making any payments for work. ALWAYS.
In conclusion, just use common sense. Clearly, things we failed to do that and it led to us losing a few thousand dollars as a result. If you do as many projects as we have you can be assured this will happen to you eventually if you do not follow these steps.
It is already a well-known fact that Craiglistlist fraud is far-reaching. However, while con men come in all shapes and size my fellow real estate investors need to be reminded that contractors on Craigslist, in particular, are preying on not just homeowners but even the most advanced remote real estate investors as well.
In more instances than would most assume, these fraudsters are traveling across the United States to make a profit from their construction scams; in many cases posing as local tradesmen and vanishing after they take deposits without completing jobs.
This is not a small problem either. Many of these dishonest contractors are relying on the fact that local law enforcement does not have the time or resources to deal with what is often deemed a private party dispute and unless the number of victims is large enough and all those people file police reports in the same jurisdiction little is done to prosecute the Paul Keating's of the world.
Craiglist contractor scams are yet another reason why more needs to be done in many states (in particular in the midwest) requiring licensing for all contractors. Along the same lines for this to make a difference it needs to be the case that states allocate enough state to those licensing bodies and departments within each state so that over time more unlicensed construction contractors get licensed and the state databases become useful for people checking on the histories of contractors.
Within all professions, there will always be scammers, but as a real estate investor, it is important to remind yourself at just how big the threat is to your business posed by craigslist construction fraud. Here are some ways to report a fraud on Craiglist. Ultimately though in the case of our Paul Keating Painting Contractor we were left with just the option of small claims court.
In this case, we chose to use this as a learning experience and document the backstory as a part of how we devised our, 'Paul Keating Rule'. The name of your rule may be different but if you invest in real estate long enough and take your eyes off the process, realize the chances of you having an experience like ours is high.
In conclusion, just to share some more of the details on how the experience with this painting contractor came to make such an impact on us moving ahead, and result in me coming up with the 'Paul Keating Rule' I have shared the full context of communications below.
Up until the day before we realized we had been completely misled about the status of the project I was doing everything possible to get the guy back to the job site even if it meant kissing his rear and saying whatever I needed to in order to recover our investment.
Our last ditch email to get the contractor back to finish the job: Here is that email from us to Paul Keating. First off though to give the reader context. There was a handyman who we spoke to about other work at the property. Mr. Keating accused us of having someone else bid the contract he was currently doing. This was a case where the guy pulling the fraud exposed his fraud inadvertently; having lost confidence in his own ruse.
Little did he know he still had us on the hook. At that time we had no intention at all of replacing him on this job because we were already nearly paid in full and we're pretty patient people who appreciate labor work both skilled and unskilled.
The handyman that stopped by we actually had no idea was even going to stop by. He had merely emailed us based on the old ad still being up on Craiglist. This was a simple fact of me always leaving ads up until jobs are complete. We added some reader notes in blue as well. In particular, the two images where 3 days earlies it was stated by the contractor that it was 200-600 for the soffit and facia board repairs. None of the other wood repairs nor the porch was completed but yet the stop-work demand was for unearned money.
Basically, this guy had already decided that he could probably lean us on to get that money ($400 more) and then leave. Essentially, it was already decided in his mind at that time that he was not going to actually do the work he was paid for, but that he would try to get that last money from us based on the presentation of the misleading pictures. (Before we found out about the fact that not even the priming was complete.
Meaning we got a shit prep job with some priming and repairs to a facia board and soffit and we paid over $4,200 for that. Now we get to rehire the entire job….which was $110.00 shy of being paid in full.
_______________________________________________________________________________
Paul, 

I believe this is a misunderstanding and I want to get it worked out. PLEASE review the email I sent you and that Craiglist guys reply I sent when you wake up tomorrow. There is no communication AT ALL EVER WITH ANY OTHER HUMAN BEING ABOUT THE PAINT JOB SIR. 

I had and still have complete confidence in you.

I truly believe you are an honest person who is frustrated as well about money coming out of your account that you were not thinking would be debited as you mentioned. 

I believe the things you are sending ar all said in frustration. 

I also believe you may actually think that we spoke to the guy about painting. That is NOT TRUE though I absolutely promise you this. 100% COMPLETELY UNTRUE and that is why I sent the email I did a minute ago. I have had and continue to have 100% faith in you. 

Evidence of construction fraud by Paul Keating painter.

This was what upset me and had me calling Mr. Keating fearing that we had been duped or were in the process of being set up for a exit. (refer to the image on the left side whereby the contractor stopped work then refer to the image on the right side which was from 3 days before that)

These conflicting statements by Mr. Keating was where he started to get tripped up in his own words.

Please understand. I have a very large amount of money out to you. All I am trying to do is get pictures and make sure that the job is getting done. I still have faith in you.

The fact that the dude was a local handyman was the only reason why I wanted to have him contact me so we can get more help over there with all the other work. There is a whole bunch of laborer work not tied to paint as we have talked about. I tried to coordinate this all so that the work would be done when Charlie and his son arrived and so that we could also have you do more work. We have another property locally were already looking at as well.

However, please let's start fresh man. I have invested $4,200 and I want to you please look this over below. Please also accept my apologies if anyway you felt offended. Please also though try to realize the following:

This was your payment arrangement and it is met but the bilk of the work remains undone:

(Removed due to duplication but see the main image which is where the project was left) 

Your demand for payment I felt was ahead of the work. That was the ONLY ISSUE. Which you indicated you understood and were fine with. I went to bed and woke to this

Here is what has been paid, Paul:

Estimated Paint for the job only ext / Glidden paint with contractor discount: 

14 gallons primer at approx $20 gallon is $280. 

14 gallons of body paint at $30 gallon is $420. 

5 gallons foundation paint at $30 is $150 

7 gallons trim tan at $30 gallon is $210

and 5 gallons of green trim at $30 gallon is $150 

Correct me please if anything here is wrong as I always want to be fair: 

Total of that is $1,210  – minus now $4,200 which has been paid. I trusted you and sent it to Friends and Family Paypal and ate the fees as well:  

$2990 in labor paid sir.

Minus 600 for facia and soffit leaves $2,390 which means by your terms the ext paint should be nearly 100% paid for

$2,390.00 labor has been paid sir of the ext paint LABOR. That is $110 shy of all of the labor for the ext pain.

So if you just scroll back up sir you can see that we are ahead of the progress of the work: That was why I was so alarmed. Please try to understand here. At the current condition of the property work, I would be totally screwed if I was to rehire this job. They would look at it as if the bulk of the whole job was left to do.

Exterior.  Powerwash, prep, prime, and paint. $2500.00   i.e same colors.               

Soffit, facia repair $200.00-$600.00   

See pictures:

Real estate investing is tough enough without contractor issues so severe that they illustrate classic construction fraud. (We later found that not even all the home was primed)

(removed other as duplicate to post)

All I have is $700 in paint receipts Paul. If there is more please share them so that I make sure that is accounted for. I went ahead and pushed that up to 1,200 based on trust.

See payment now direct from my PayPal. 

All payments to Paul Keating

Then these payments yesterday

Total: $4,200 + Fees paid. 

Listen I am never too big to apologize if I was out of line. I am always fair and always pay and I even always pay fast. 

At times I pay so fast it gets me into trouble as people get the money and then leave losing their motivation to keep their end of the agreement seeing they can leave with the money ahead of where they would be if they did the promised work. It's sad that it happens sometimes but it does. 

I know you are not that kind of guy and I want to do future work with you so please after you get some rest lets put misunderstandings behind us as water under the bridge and get you back out to finish this and for the rest of the contract plus other things after. 

There is more work as well here as you know that we can under up doing besides other houses. I also have a full repaint in Topeka that is READY now. The relationships are very important and that is why I am always fair and never cheat anyone. Sure, I want to also protect my family and I get that the same applies to you as that is why we're all working. 

Look man, I am even willing to add a bonus to this work. I just need to get it done right away. 

Please go through this and correct anything that I have made a mistake on if overlooked anything.

Thank you.

Sincerely, 

Ron Lee

 
_________________________________________________________________________
The $200 we sent before the final $400 was premature as was the $700 before that. All in all,  I violated my own rules of DOCUMENTED DONE pictures three times. In retrospect, I think I was in such disbelief that I had been taken so badly that I just assumed it had to be me and that more work was done the images showed. This was part of the confidence trick. Once the $400 was paid, Mr. Keating left the job and sent a false statement as follows. Here is the Oct. 6th email from Paul Keating which is a completely false statement.

This is a statement made up out of thin air in order to justify abandoning the job after his own demands were met; demands which were for unearned money for incomplete work.
This is classic construction fraud.
Long story, long make sure to use the 'Paul Keating Rule'.
Parting thought: keep us in mind if you run across anyone selling an inherited property.